About NYCity Slickers
Annie Chadwick, Singer

Annie Chadwick's multi-faceted performance career ranges from the stages of opera & musical theatre to the world of film and TV. She began her singing career at 14 performing wash-tub-bass with the country/folk band, The Petticoat Minstrels. From this folk tradition she journeyed into classical music getting her master's degree from Indiana University School of Music and has now come full circle back to her love of root music singing bluegrass with the NYCity Slickers. Recent work includes: Confessions Of A Shopaholic, as John Lithgow's wife, Mrs. Edgar West; featured singer, Vaudeville Nouveau with Bill Irwin, Andre DeShields & Heather McRae, and Guest Soloist, Heart's Journey @ Symphony Space; Favorite Theatre credits include: Faust, Jacques Brel:Life Dance, Honky Tonk Angel, Lysistrata, Something's Afoot, Cat On A Hot Tin Roof, Cabaret, Hello Dolly, Baby, Same Time Next Year. Film/TV credits include: Law & Order: SVU; Awakenings; Saturday Night Live (with David Spade); Guiding Light and Eligible Dentist (with Gene Wilder). Annie is currently in rehearsal for her new cabaret act with Abigail Hardin, Faser Hardin and director, Bob Cline. For more information go to:
www.AnnieChadwick.com
---
Abigail Hardin, Singer

Abigail Hardin is a native New Yorker who began her career as a Gerber Baby. Since singing at the age of 4, Abigail has performed with numerous bands in NYC. She has a wide vocal range from pop, musical theatre, country, folk, and rock. New York stage credits include: That's Showbiz! - The Musical (2009 MITF, nominated for Best Lead Actress in a Musical); OPA! - A New Musical (Dir. Spiro Veloudus, nominated for Best Supporting Actress in a Musical in the 2008 MITF); Abby's Song (Dir. Randy Skinner, starring Paul Sorvino, at the City Center); The Devil & Billy Markham (The Algonquin Theatre Company, at the Daryl Roth Lounge); Little Kit (Vineyard Theatre); Anne Frank and Me (American Jewish Repertory Theatre); Brel! (Harold Clurman Theatre). TV/Film Credits include: Dellaventura (with Danny Aiello); As The World Turns; Guiding Light; Searching for Bobby Fischer. 2 years at Emerson College in a BFA in Musical Theatre. Member of the WorkShop Theater Company & AEA/AFTRA. Abigail is currently in rehearsal for her new cabaret act with Annie Chadwick, Faser Hardin and director, Bob Cline. For more information go to:
www.AbigailHardin.com
---
Kim Harris, Singer

Kim is thrilled to be joining the NYC Slickers and returning to her Tennessee & Texas roots! She has performed off-Broadway in the Peccadillo Theatre comedy, Room Service. Regional theatre credits include "Nancy" in Oliver and "Annie Oakley" in Annie Get Your Gun. She has performed as a principal singer at Dollywood in Pigeon Forge, TN as well as various roles at Walt Disney World ("Ariel" in The Voyage of the Little Mermaid & "Dolly" in the Hoop Dee Doo Review). An avid half marathoner, Kim was thrilled to finish her first two full marathons in 2011 in Nashville and NYC! Kim is fanatical about her family, friends, faith, felines, funny films and FOOD!
---
Faser Hardin, Banjo and Accordion

Faser Hardin, a native Mississippian, has played the piano and organ all of his life. He holds a Master of Music degree from Indiana University School of Music. He has performed on and off Broadway in such shows as Chorus Line, Edwin Drood, Annie and Summer '69 as well as numerous regional productions including La Vie en bleu at the Walnut Street Theater for which he also served as Musical Director and Dance Arranger. He has served as musical director for Geraldine Fitzgerald, Shelley Berman, Phyllis Hyman, Lou Jacobi and Len Cariou. Having been captivated by the sound of the banjo from an early age, he didn't really begin an association with the instrument until four years ago when he began studying with Tony Trischka. The NYCity Slickers were soon formed and the rest is history. Faser is so excited to be performing with this group of friends and talented professional musicians.
---
Andrew Baird, Guitar

Born and raised in Austin, TX, Andrew Baird grew up with the guitar. He began playing at a young age, developing an early love for Classic Rock, Blues, and Jazz while performing with local groups as a teenager. He attended Idyllwild Arts Academy for High school where he began seriously studying music. He would later earn a Bachelors Degree from Berklee College of Music and a Masters Degree from New England Conservatory in Jazz Composition. After finishing school he moved to New York and began performing with various groups as well as teaching privately. He joined a Pop/Folk outfit called Shayna and The Catch that has written for TV shows such as "MTV's Real World" and ad campaigns such as the "2011 Ford edge campaign". He is also a member of the progressive Bluegrass group "The NYCity Slickers". They regularly perform around the Tri-state area. He also loves teaching and sharing music with others. He believes in a balance of fundamental technique, theory, and repertoire. He is currently endorsed by D'addario and plays Eastman, Martin, and Fender guitars.
---
Jens Kramer, Fiddle

After receiving his degree in Music from the University of Wisconsin, Jens Kramer began his professional career as a musician in various theme parks including Hershey Park, The Kennywood Corporation and Six Flags. He then moved on to play in several professional orchestras including the prestigious Wausau Symphony Orchestra and the Johnstown Symphony Orchestra. Since relocating to New York City, he played violin as a featured performer, composer and musician in New York City's Fringe Festival, Rockefeller Center Rainbow Room and the well-known Bitter End in New York City's West Village. Recently, he ended a North American tour with the Broadway show Johnny Cash: Ring of Fire as the featured fiddle, mandolin and acoustic guitar player. Jens is also an accomplished musical director. He has musically directed several Broadway performers from shows such as The Drowsy Chaperone, High School Musical, Chicago and A Chorus Line as well as numerous theme park show and corporate events.
www.jenskramer.com
---
Phil Rowan, Bass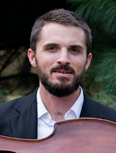 Phil Rowan is a Brooklyn-based double bassist working in a wide variety of musical settings. After studying extensively with Dennis Irwin at Purchase College, Phil moved to New York City to be part of its vibrant music scene. After several years' experience he went back to school at Stony Brook University to pursue his graduate degree in classical double bass performance. Phil has performed with the Kjersti Kveli Group, The David White Jazz Orchestra, The Hunter Choir Orchestra, Camerata Notturna, One World Symphony and The Choral-Orchestral Ensemble of New York, among others. His current projects include the quartet The New Amsterdam Symphony Orchestra, NYCity Slickers, The Mike Irwin Trio, occasional performances with The Alex Levin Trio, and Old Time Musketry, who recently finished mixing their 2nd album.
---
Greg Utzig, Mandolin

Greg Utzig is a long-time veteran of Broadway musicals. He has performed in the pits of Guys and Dolls, Curtains, A Three Penny Opera, Fiddler On the Roof, Dessa Rose, Big River, Oklahoma, Tom Sawyer, Miss Saigon, Ragtime, Side Show, Steel Pier, Gentleman Prefer Blondes and Shenandoah. He has also performed with the New York Philharmonic, American Composer's Orchestra, American Symphony Orchestra, Brooklyn Philharmonic and St. Luke's Chamber Orchestra. He has made appearances on Martha Stewart, Regis and Kelly, Today Show, David Letterman and Good Morning America.