News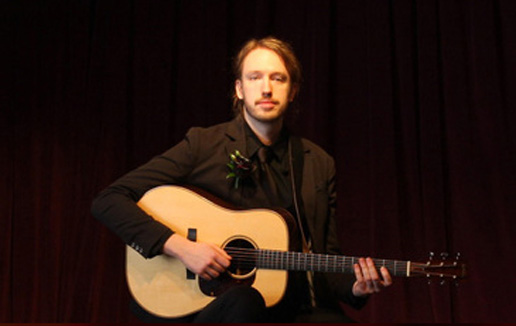 Meet guitarist Rick Snell!
August, 2014
We are so excited that guitarist Rick Snell will be playing with us in Norway! Rick is a NYC-based guitarist and singer who specializes in bluegrass, jazz, and rock n roll. He currently plays with Only Son, who has been busy opening for Regina Spektor for a few years. His bluegrass band Six Deadly Venoms was a featured finalist at the Telluride Bluegrass Band competition and has toured nationally for a few years, releasing two albums along the way. His recently recorded TV ads for GEICO have been seen by millions of people the world over. Select venues that Rick has played in the past few years include: the Beacon Theatre, Town Hall, The United Nations, Avery Fisher Hall at Lincoln Center, and the Greek Theatre in L.A. While in New York Rick hosts a weekly bluegrass session at Mona's Bar in the East Village; after two and a half years it is now a destination for many great pickers passing through the area on tour and is a vibrant hub for the exploding acoustic music scene here. In addition to his busy performance schedule Rick is excited to share his love for music with new generations of guitarists; For lessons and more information on Rick Snell see his website:
ricksnell.com
.
---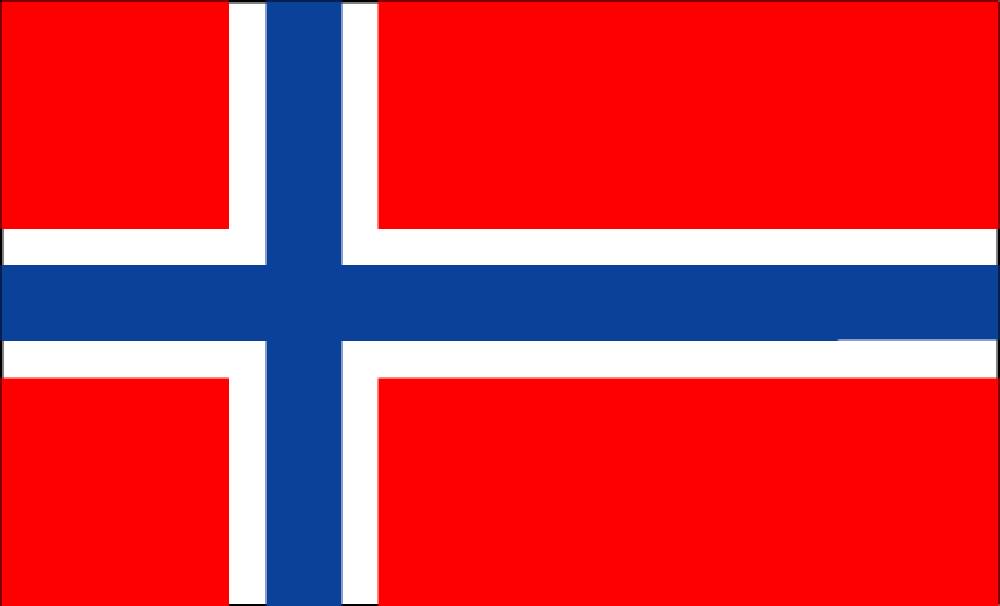 We're going on tour in Norway!
August, 2014
We are thrilled to announce that the entire City Slickers band along with sound man, Mike Judeh, will be going on a 2 week tour to Norway from September 8-21, 2014! The band will be playing at the Nordkapp Filmfestival in Honningsvag, Norway and numerous venues in the Oslo area. The tour is sponsored in part by the US Embassy in Oslo, the Nordkapp Film Festival, and the Finnmark Fylkeskommune. More info to come very soon. For information on the Nordkapp Filmfestival visit
www.nordkappfilmfestival.no/
---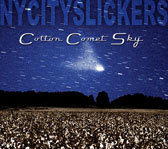 "Cotton Comet Sky" now available!
December, 2013
"Cotton Comet Sky" is now available! Released on December 8, 2013 at the Bitter End, "Cotton Comet Sky" features 6 songs debuted on our "Mississippi Home Tour". As we worked on this collection of 6 new songs, we became inspired by the photography artwork of our talented Mississippi cousin, Eyd Kazery
www.eydkazery.com
. Eyd's magical vision of Mississippi, especially his cotton comet photographs, seemed to be the perfect image to represent our songs from home - thus the EP name change to "Cotton Comet Sky".
Inspired by a genuine love of our Mississippi roots, this EP continues to explore the fusion of traditional bluegrass, Americana pop and gospel which has become characteristic of our eclectic signature sound. To capture the energy of one of our live shows, we recorded the album live in one studio at Dubway Studios in New York City.
You can buy "Cotton Comet Sky" on our
store page
or on
itunes
or
Amazon
Visit the Store Page >>
---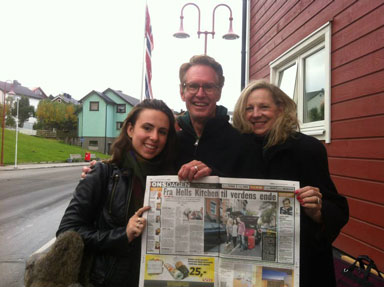 NYCity Slickers in Norway!
September, 2013
Annie, Faser and Abigail just got back from a great trip to the Nordkapp Film Festival in Honningsvag, Norway! They performed throughout the festival with Josh Fielden on Spoons and Honningsvag locals, Per-Inge Jensen on Guitar and Knut Wagelids on Bass. Annie, Faser and Abigail also taught a workshop on Americana Folk music. New friends and fans were made during this great cultural exchange. Also in the works, a Northern Norwegian tour for 2014. More info on the trip north and PR to come.
Pictured here: Abigail, Faser and Annie holding a copy of the
VG article
about their trip to Honningsvag
---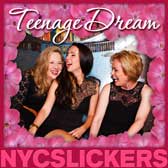 Katy Perry's "Teenage Dream" now available!
February, 2013
Just in time for Valentines' Day, our country cover of the pop hit "Teenage Dream" is now availavble. "Teenage Dream" is available for FREE when you pre-order our upcoming EP, "Cotton Comet Sky" or can be purchased online.
What people are saying about it...
The cover features lady gang vocals, fiddle picking, and dueling string solos. Abigail Hardin sings with Katy meets Loretta, full-throttle intensity
- Laura Kazden (
folkyourself.com
)
Looking for some cool new music to listen to while you're sharing truffles and bon-bons with your Valentine? The NYCity Slickers [...] has just released a bouncy new version of the Katy Perry hit, "Teenage Dream"
- Stuart R. Brynien (
vivalifestyles.net
)
Pre-Order "Cotton Comet Sky" >>
Buy "Teenage Dream" in iTunes >>
---
Rave Review of our Live Show at Rodeo Bar
WOW! Thank you, Ken Fitch and everyone at
examiner.com
for such a rockin' rave review of our last show at Rodeo Bar (7/01/12)! Take a look at the article and if you haven't yet, check out our
schedule
to catch us in action.
Read the Article >>
---
Vendy Awards 2012
We are so excited to be playing the Vendy Awards again this September. We had the honor of playing this fantastic NYC foodie event and can't wait to be back. Buy your tickets early because they DO sell out! And the longer wait the higher the ticket price.
---
Tour Dates Set!
We are thrilled to announce that we will be on tour in Mississippi from October 6-14, 2012! We had a blast playing at the 33rd annual Mississippi Picnic in Central Park on June 9, 2012, where we announced our tour to the Mississippi folks. We had a taste of catfish and boy, do we want some more. For bookings and more info on our "Mississippi Home" Tour visit our new
Tour Page
. We will be performing two gospel concerts in Canton and Oxford in addition to our Big Apple Bluegrass set. Cities already booked include Jackson, Oxford, Tupelo, Clarksdale and Canton.
Visit the Tour Page >>
---

Bluegrass in Norway? Yes Sir!
Featured in Norway's leading Newspaper, VG -
Read More >>
---
Governor's Island Cook Out!

NYCity Slickers play 2012 COOK OUT NYC on Governors Island!
Find Out More >>
---
NYCity Slickers Play 33rd Annual Mississippi Picnic in Central Park