Press and Reviews

2014 Highlights >>

Spring 2015 Press Release >>
"The singing is fabulous and impassioned, which is what modern day bluegrass could use more of. The arrangements are stellar and the material is strong."
— Tony Trischka, Grammy-Nominated Banjo Legend
---
Riverside Park Summer Concert Series
"Let me tell ya'll about the wonderful show I went to on Saturday night. Thanks to the NYCity Slickers, I experienced a heaping helping of true down home, southern fun. Being from Texas, I often long for some of the "southern comforts" that the city doesn't offer. The Gals and Guys of the NYCity Slickers really give me a fresh remindin' of what it's like to be home, surrounded by family, friends and good ol' bluegrass. The concert at Riverside Park was absolutely amazing. The view overlooking the Hudson and New Jersey was breathtaking. The atmosphere of people dancing and enjoying themselves was astonishing. But the band was what really brought everything together. I can't remember the last time I saw so many people having so much fun. To tell you the truth, I can't really describe the joy I felt on Saturday. You had to be there. So, don't you miss a single one of their upcoming performances. Until next time"
— Marcus Jones, actor
---
Bluegrass Mass w/the Millsaps Singers
April 2015
"I want to take a moment and offer my thanks for a splendid evening of music at the Millsaps Arts & Lecture Series Schubert & Bluegrass Concert. This was the first time I was able to experience the NY City Slickers. You can now count me in your enthusiastic fan base. The three different parts of the concert were all just splendid, and so very different. The Singers, of course, did a remarkable job with a very demanding and diverse set of challenges, and the Slickers really wowed the audience in the final sections. I'm glad I got to experience this phenomenon first hand."
— Keith Dunn, Senior Vice President and Dean of the College, Millsaps College, Jackson, MS
---
Fireboat John Harvey Benefit
March 2015
"Thank you again for the wonderful performance last night at our Fireboat John Harvey Benefit at Tribecca 360 NYC! You truly have become the premier bluegrass band in New York, and the fact that Slickers is made up of such exceptional people makes it even more of a joy to listen to you! Please pass on my greatest thanks and admiration to the rest of the band; what a fabulous sound you have!"
—Renee Lutz, Event Organizer
---
Baker & Mackenzie Diversity Cocktail Party
March 2015
"The NYCity Slickers performed at a reception for the partners meeting at our law firm. We hired them to provide background music during the event and they were a hit. As the evening progressed, more and more people took note of the band and by the end of their set, the crowd roared with applause! The band did a great job. They were easy to work with and professional from start to finish. I look forward to having them play again at a future event."
—Floyd Mills, Event Chairperson
---
---
---
---
Valentines' Day Review from Viva Lifestyles!
February 14, 2013
by Stuart R. Brynien
Looking for some cool new music to listen to while you're sharing truffles and bon-bons with your Valentine? The NY City Slickers — a local band with a Southern-fried sound that specializes in the blues, traditional bluegrass, and bluegrass pop — has just released a bouncy new version of the Katy Perry hit, "Teenage Dream" … and best of all, if you pre-order the EP that the single appears on — a six-track called "Songs From Home" (officially due out in April) — you can even download "Teenage Dream" for free!
The City Slickers' debut CD in 2011, "Layin' It Down", won praise from critics and fans alike, and "Songs From Home" includes numbers they performed to sold-out houses when they toured Mississippi last summer.
The NYCity Slickers: an inspired blend of passionate vocals, fancy banjo-pickin', and some good old-fashioned fiddlin'. Check them out!
Originally published on
vivalifestyles.com
---
---
---
FEATURE!
Northside Sun Magazine - Jackson, MS
October, 2012
---
---
---
---
---
---
Governor of Mississippi Gives the Thumbs Up!
"I simply want to thank you for affording me one of the most delightful and enjoyable evenings that I have spent in a long time. Your incredible musical talent is matched only by your cordiality and kindness. As a long-time fan of bluegrass music, I found yours to be absolutely enchanting. I could have listened to you all night. You all made me so proud to be from Mississippi."
— William Winter, Former Governor of Mississippi
---
Bluegrass Unlimited
"This is a New York based, eight-piece group fronted by three ladies whose combined deliveries make for an enjoyable project."
— Bill Foster, "Bluegrass Unlimited," April 2012
---
NYCity Slickers in Norway? Yes Sir!
The Slickers were just featured in Norway's leading newspaper, VG. Here's a PDF of the double page spread. We're still working on a translation. Anyone speak Norwegian?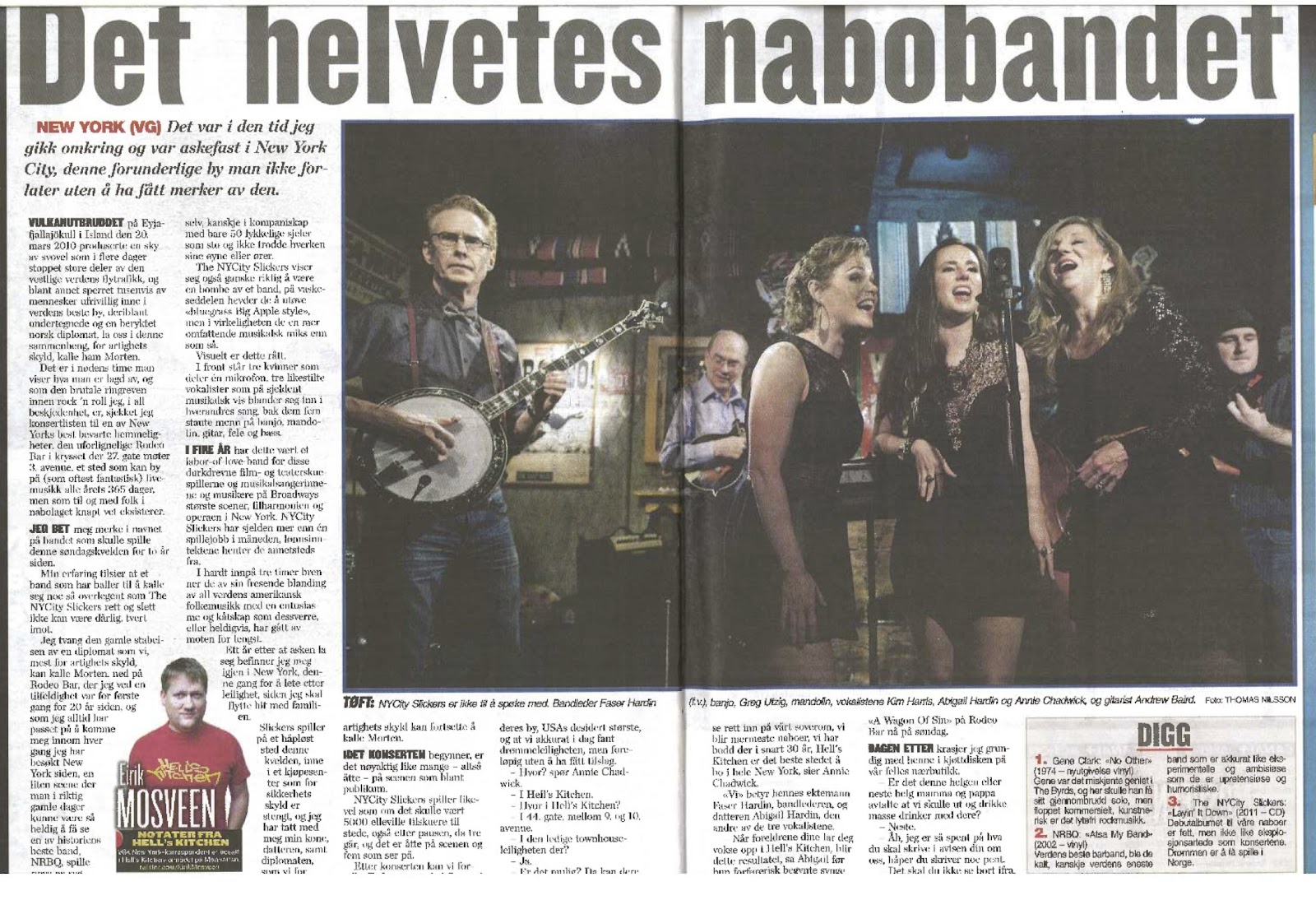 ---
---